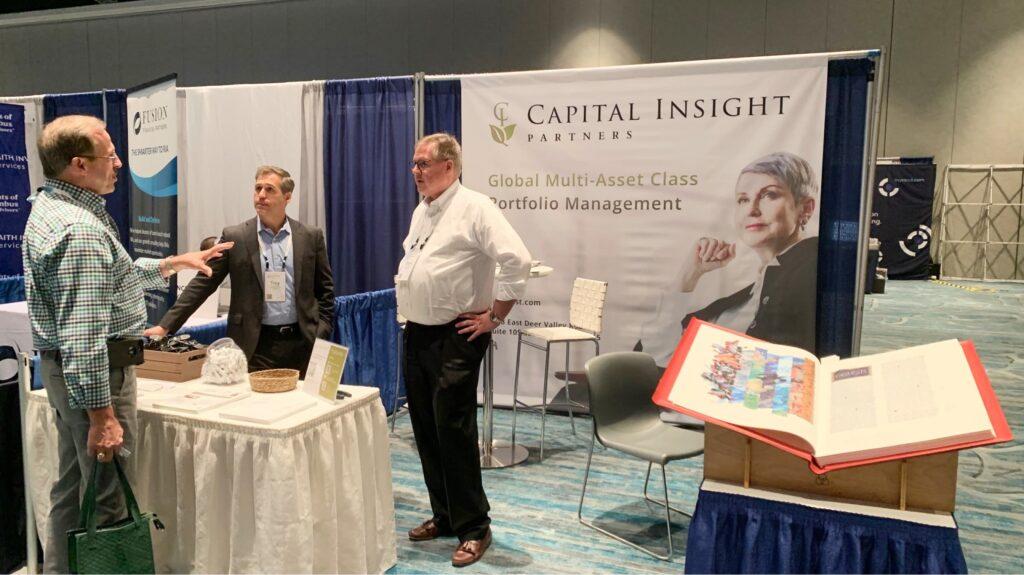 The FIS Biblically Responsible Risk Managed ETF (ticker: PRAY) trades on the New York Stock Exchange. It invests in stocks around the world of all sizes.
Risk Management of the fund comes through security selection and traditional disciplines. In addition, the fund can sell stocks and raise 20% cash if Capital Insight Partners determines that conditions warrant.
The fund purchases stocks that are large, mid and small capitalization. This go anywhere and anytime fund has great flexibility.
The fund allows Christians to invest seeking performance in a manner consistent with their moral values. Capital Insight Partners also offers separately managed accounts (SMA) through financial advisors in this same discipline.
This conference is always an uplifting experience. The Biblically Responsible investing movement is gaining momentum. The industry seeks to deliver investment performance in a faithful manner.
Capital Insight Partners has managed Biblically Responsible portfolios for many years now. In February of 2022, the launch of PRAY was an exciting event. Although a stock fund, the ability to raise cash has proven beneficial in the challenging markets this year.
What are the moral screens? Both in PRAY and in our SMA portfolios, first employ quantitative screens for stocks across the world. For stocks that make that first cut, we then apply moral filters. For example, we do not want to invest in pharmaceutical or life sciences companies involved with abortion drugs. Since a key element of the Christian Faith is to celebrate human dignity, we do not invest in companies who have human rights violations or are involved with pornography. Similarly, alcohol and tobacco companies are screened-out. In the affirmative sense, we want to invest in companies who are good to their customers and employees and who care about their communities. If candidate stocks survive this process, we then utilize our normal portfolio management construction disciplines to build a high-conviction portfolio of 60-80 stocks.
Capital Insight Partners normal minimum is $2 million. Thus, we are excited that the PRAY ETF affords every investor to benefit from our approach to portfolio management. Further information about PRAY, including a short video, Factsheet, Prospectus, holdings and more is at www.faithinvestorservices.com/pray.