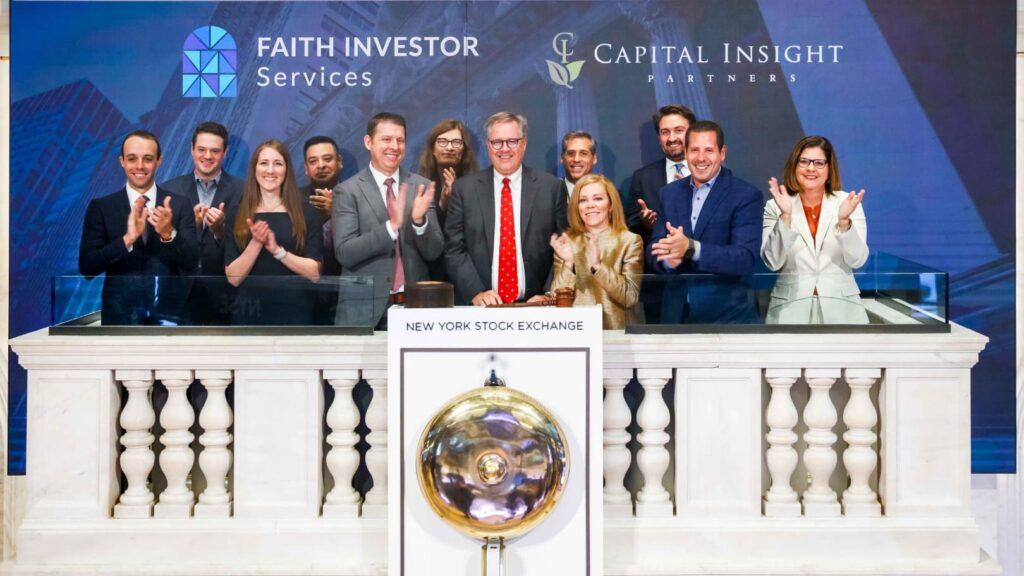 Steve Nelson, CFA and CEO of Capital Insight Partners rang the Closing Bell surrounded on the balcony by members of both companies.
Craig McCrory, CFA and the Chief Investment Officer of Capital Insight Partners vigorously used the gavel to conclude the ceremony.
Both firm's logos and the PRAY ticker were prominently displayed throughout the NYSE that afternoon.
According to the NYSE, bells have been utilized since the 1870's in conjunction with continuous trading. Capital Insight Partners is headquartered in Scottsdale, Arizona. Faith Investor Services is based in Dallas, Texas. For both companies, it was a privilege to head east to New York and to ring the Closing Bell. Joining them on the balcony was Ben Sampson of Virtu. That firm serves as an Authorized Participant for the ETF ticker PRAY.
The collaboration began in 2021 when Faith Investor Services, who is the fund's Advisor, asked Capital Insight Partners to serve as the fund's sub-advisor. In this capacity, CIP is the portfolio manager and makes the daily investment decisions for the fund. Foreside is the distributor.
PRAY is a global all-cap stock fund. It can own stocks from anywhere in the world and of any size – small, medium and large. Stocks are screened for Christian Values. A short-video, Factsheets, Prospectus and other information are at www.faithinvestorservices.com/pray. Although a global stock fund, PRAY can also hold up to 20% in cash in times of market turmoil.